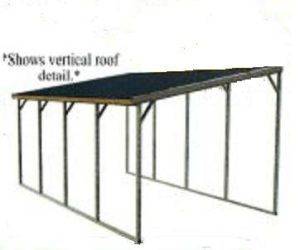 Our Vertical Roof Style Lean-tos are now free standing, and make a very attractive, and affordable alternative to our free standing Carports.  All that is required is a level spot. Upgrade to 12 gauge structural steel for not a lot of money, and get a 20 year warranty against rust out on all of galvanized structural material.
Have questions? Call us at 618-314-4660
Need Financing? We have 2 options for you to choose from. Click the link to see how easy it can be.