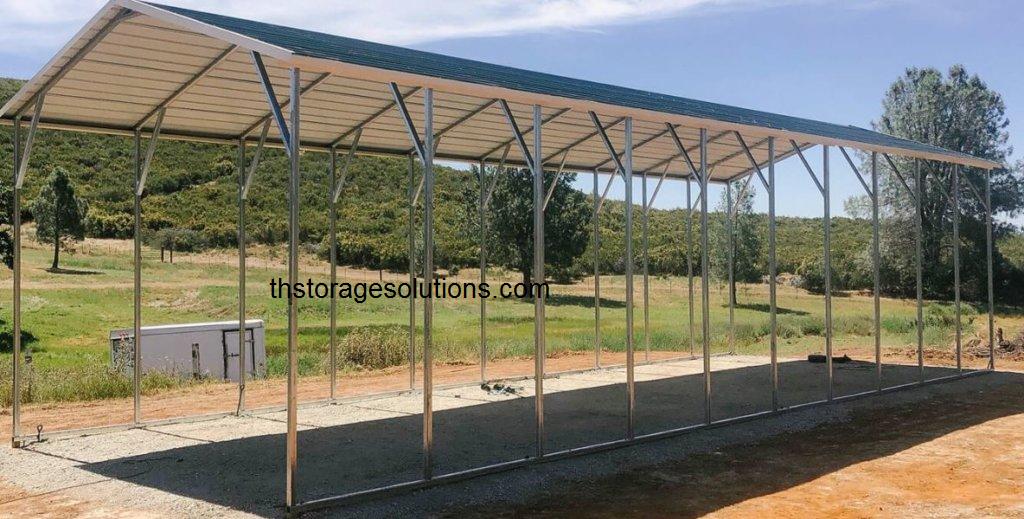 Did you know you can greatly extend the life of the EPDM roof of your expensive RV with one of our free standing RV Ports. And, in some cases, for less than a new roof. We've done the figuring for you, and all you need to know is the length, and height of your RV to select the proper size. A 10′ tall leg height will have a 12′ center peak height, or more depending on the width,* and a 12′ leg height will have a 14′ center peak height, or more, depending on width. These packages can be custom sized if need be. In between sizes are priced at the next standard size. eg, a 13′-14'15'-16′ unit would be the same price as an 18′ unit. Our RVports come standard with braces on all of the legs, and driven 36″ rebar temporary pin anchors. Mobile Home anchors are available at additional cost of $30 each. You can add extra panels to the sides, or close the sides completely. Height Supports are also available for installation in unprotected open areas. 22′ and 24′ wide RV Ports have 4′ welded center braces on all the trusses to make them one of the strongest available. Add Gable ends, or close the entire end if that's what you would like to do. We even have roll up doors up to 12'x12′ if you would like to close your RV Port completely for added security. Just visit our carport options page for pricing information.
We work with 3 different Carport manufactures so call us at 618-314-4660 for pricing in states not listed here.
See our Carport Options page for Gable Ends, Extended Gable Ends, Sides, Ends, Etc
.Need Financing? We have several options for you. Rent To Own is now available. Call our office to see how easy it can be.
The Vertical Roof Style is recommended for structures longer than 31′ 
Prices are valid in Illinois, Indiana, Missouri, Iowa, Kansas, Oklahoma, Nebraska, Arkansas
Click over to our Carport Options page for additional options
Our Midwest service area
Call or email us today @ 618-314-4660
[email protected]